About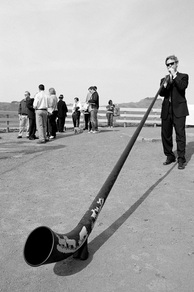 Playing the alphorn near the Golden Gate bridge.
_Composer and hornist Daniel Wood is a musical Renaissance man. His varied career as a musician entrepreneur includes composing for big bands & chamber musicians, teaching horn & musicianship, performing with orchestras, headlining his solo shows, and lecturing on music business.

Founder of Quadre – The Voice of Four Horns, he has performed over 1,000 concerts with the group and composed for all four of their commercially released albums. Compositionally, his works favor small ensembles, including brass, wind and string chamber music, steel drum ensembles and jazz combos. Recent commissions include "Our Hot Date with Destiny" for wind quintet from Avenue Winds, "Space Available" for horn duet from musicians of the St. Louis Symphony Orchestra and "Shaking It Up" for brass quintet from CSMA Brass. He also presents solo shows as an improvisational musician using the horn, piano and electronics including "Daniel Wood and Co." (2012), "Brother, Can you Spare a Dime" (2009) and "Life on an Island" (2007). As a solo artist, he has played with numerous chamber ensembles, symphonies, opera & ballet companies and new music ensembles. Wood also lectures regularly on the "Business of Music" and runs Solid Wood Publishing, offering over 150 titles of music. He received his education from the University of California–Los Angeles with additional training in discipline-based arts education – a Getty Center curriculum. He teaches at the Community School of Music and Arts and the San Francisco Conservatory Preparatory Division where he is chair of musicianship & composition.

---
Contact

For all inquiries including teaching, music services, and public speaking, click here.